How and why will employees be affected?
The decision to leave the EU has raised many questions and concerns for employees, employers and policymakers. There's no doubt that Brexit will have an effect on migration, the labour market and employment law. But do you know how much these changes will affect your business?
If the free movement of EU citizens is halted, it could stunt the growth of the UK's future workforce. Up to 47% of high-skilled professionals and 38% of low-skilled EU Nationals are considering leaving the UK in the next five years thanks to the assumed changes in employment and migration law in the UK.
However, the UK's unemployment rate has fallen since the referendum, and there have been a few positive markers that may present opportunities for both UK businesses and their employees.
The chart below shows the hike in UK job seekers considering their options abroad after the Brexit result. Will we see another hike when the UK comes to a solid agreement?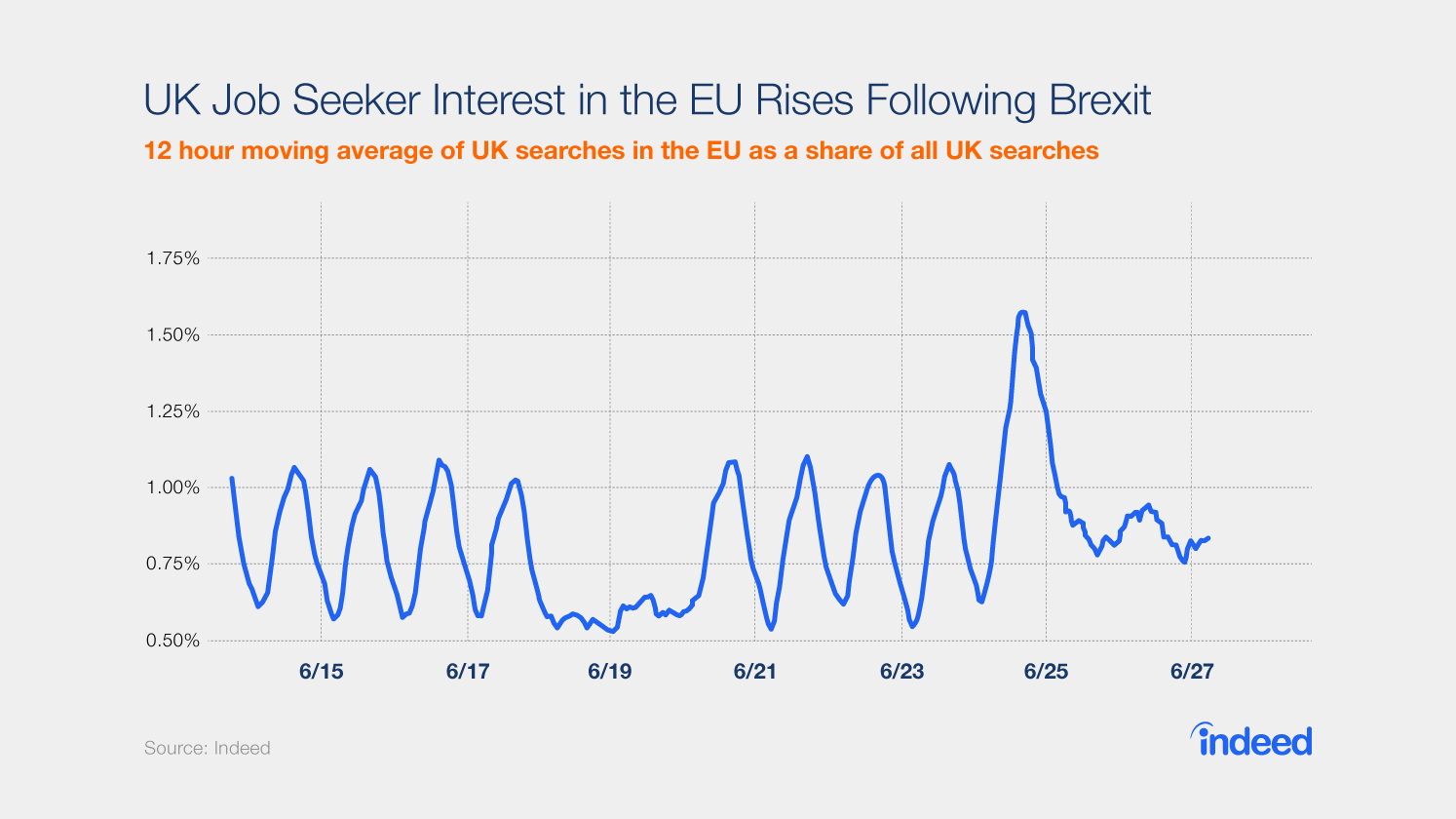 "EU workers in the UK still have the right to live and work freely in the UK. Until the UK fully negotiates its position and relationships with the rest of Europe, stay informed of the immigration status of your workforce, and make sure you communicate with employees, who may be concerned, as things develop."
Carl Reader - Business Advisor, Entrepreneur, Author
What will the impact on my business be?
Thanks to a large number of baby boomers now reaching retirement, many UK people are now leaving the job market, reducing the tax revenue to the government and increasing the burden on the NHS. This means that the UK needs to expand the tax base through more workers to ensure that there are enough taxes to pay for the NHS. However, as we've highlighted, Brexit might see our workforce shrink thanks to the lack of incentive for workers from the EU to remain in the UK.
There is already a skills shortage in engineering, IT, care work and accountancy in the UK. On top of this, if unskilled workers choose to leave the country, independent retailers, care homes, hospitals and restaurants may face staffing difficulties.
The UK may continue to lose skilled employees But Brexit doesn't automatically mean a block on those coming into the country. The government is aware that in past years, Eastern European immigration raised British economic growth and made us richer, so it is expected that they won't employ a blanket ban (which would be politically and economically disastrous).
It is likely that the government will create a migration policy that the public can support so we can still welcome workers into the UK in a sustainable, planned way.
There is also the possibility that many big companies - especially those in the financial services industry - may move jobs out of the UK thanks to Brexit. The chart below shows how some of the biggest names in the banking world have considered moving their operations to places outside of the UK.
"For UK businesses not engaged in international trade and investment the impact of Brexit will work through via macro-economic factors such as GDP, with most forecasts anticipating reduced GDP growth compared to the expected path. For many businesses, notably in the agricultural/food, healthcare and hospitality sectors, the more immediate concern is, however, the availability of workers."
Michael Mayer - Professor of Strategic Management, Bath Uni
What steps should I take now?
Now is not the time for business owners to bury their heads in the sand - even if none of the changes have affected you yet. If the potential loss of EU workers becomes a reality, a number of businesses may have to close.
Brexit means that some businesses may find it harder to get employees and may have to pay more for those employees, all while the economy continues to be put under strain. This exit of EU workers could be seen as an opportunity for UK nationals to fill these vacant roles, however this will require investment in retraining. Conversative MP, Julian Knight said, 'although there will certainly be a short-term cost to business if they're less able to simply recruit talent from overseas, we should not underestimate the long-term social and economic benefits that will arise from investing properly in training and recruiting British workers.'
Employers should open up conversations with employees about Brexit to gain an understanding of their views and future plans regarding the exit. Bigger companies can appoint in-house Brexit-teams or an appointed Brexit person. Firms can also put contingency plans in place, consider including a Brexit clause in contracts, and check all EU staff members' immigration status.
Companies need to analyse and plan for change - particularly in regards to new contracts, relationships and regulatory positions.
If you think your business needs help navigating the uncharted terrain that is Brexit, contact us today on 0800 083 9558 or get in touch here.